Yakutia Republic
Map by COF

Leader

Tygyn Darkhan

Capital

Jokuskai

Start Bias

Tundra

Religion

Saman

Culture

Steppe

Traits

Financial, Expansive
Yakutia led by Tygyn Darkhan is a custom civilization by Hiram, with contributions from COF, TarcisioCM, LastSword, and Janboruta.
This mod requires Brave New World.
Overview
Yakutia
The Sakha (Yakutia) Republic is a federal subject of Russia (a republic). It has a population of 958,528 (2010 Census), consisting mainly of ethnic Yakuts and Russians.
Comprising half of the Far Eastern Federal District, it is the largest subnational governing body by area in the world at 3,083,523 square kilometers (1,190,555 sq mi) and the eighth largest territory in the world, if the federal subjects of Russia were compared with other countries. It is larger than Argentina and just smaller than India which covers an area of 3,287,590 square kilometers (1,269,350 sq mi). Its capital is the city of Yakutsk. The Sakha Republic is one of the ten autonomous Turkic Republics within the Russian Federation.
Tygyn Darkhan
Tygyn Darkhan was a legendary Yakutian hero and the subject of many tales, a chief of the Kangalas clan, the king of Yakuts.
Dawn of Man
Hail Tygyn Darkhan, Cheif Toyon and hero of the Sakha peoples. Upon succeeding your father as leader of the Kangalas clan you united the people of Yakutia through conquest, gaining prestige and wealth through your efforts. You owned many estates and homesteads and forged an empire to pass down to your sons and grandsons. You valiantly fought against the invasion of the Russian Empire, defending your lands despite being outnumbered and outclassed by their superior weapons. Though the Yakuts have been under the foot of the Russians for centuries since, your people have flourished and maintained their cultural identity.
Great Toyon, can you unite the clans of Yakutia once more and assert the power of Sakha as an independent nation? Can you build a civilization to stand the test of time?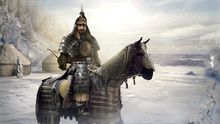 Introduction: Welcome to Yakutia. Have you come to admire my vast herds?
Introduction: I am Tygyn Darkhan, Chief Toyon of the Sakha people. Who may you be?
Defeat: Have mercy on us and allow us to keep our flocks!
Defeat: My estates are yours now it seems.
Strategy
Unique Attributes
Yakutia (Tygyn Darkhan)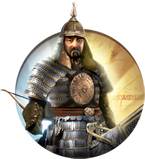 Riches of the Sakha -

Camps and Pastures yield an additional +2

Gold.

Toyons are generated 25% faster. Receive a free Toyon upon researching Chivalry.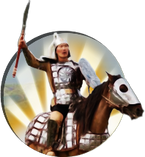 Batas Cavalry (Lancer)
Starts with the Blitz promotion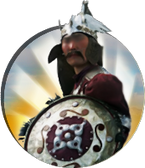 Toyon (Great General)
May build a Toyon's Estate on resources which can be improved by a Pasture or Camp, which claims surrounding territory and yields +4 Gold
Music
Mod Support
List of Cities
City List
Jokuskai
Druzhina
Elgyay
Oymyakon
Tomtor
Khonuu
Ambarchik
Tyokhtyur
Ytyk-Kyuyol
Churapcha
Khoro
Amga
Russkoye Ustye
Suntar
Verkhnevilyuysk
Olenyok
Nizhnekolymsk
Isit
Zhigansk
Mukhtuy
Tommot
Verkhoyansky
Tyukanskoye
Yarmanka
Pokrovskoye
Olyokminsk
Full Credits List
Hiram: XML
COF: Icons, Map
TarcisioCM: Icons
Janboruta: Leader art
LastSword: Leader art
The Creative Assembly: Music