The Cree Nations

Leader

Poundmaker

Capital

Sipiwininiwak

Start Bias

Plains

Religion

Protestantism

Wakan Tanka (HR)

Culture

Tribal-American
The Cree led by Poundmaker
[1]
is a custom civilization by Colonialist Legacies
[2]
, produced by TPangolin and Neirai, with contributions from Charlatan Alley, Sukritact, Leugi, LastSword, JFD, Reedstilt, and regalmanemperor.
This mod requires Brave New World.
Overview
The Cree are a large group of First Nations peoples occupying what is now northern United States and much of Canada. The Cree are a diverse group, covering a wide swath of territory, and subdivided by the many geographic regions, each with its own way of life and Cree culture. After first making contact with French and English explorers in the 1600s, the Cree adapted to new realities in their homeland, expanding westward onto the Great Plains. The Cree, like other indigenous Americans, faced an existential crisis in the face of European colonialism and nation-building.
Poundmaker (Pitikwahanapiwiyin) was a great Cree chief well honored for his wisdom in dealing with the Canadian government in the colonial era. Raised by the great Blackfoot chief Crowfoot, Poundmaker was also instrumental for bringing peace between the Cree and their traditional enemies.
Dawn of Man
Greetings, Poundmaker, Chief of the Plains Cree. You lived in a time of great upheaval, of change and hardship. As a child, you were raised by Chief Crowfoot of the Blackfoot. As you grew, you learned the ways of the Blackfoot so that peace could be made between your people and the Blackfoot, who had always been your enemies. As a man, you faced an even greater diplomatic challenge: the Canadians. As your people faced possible starvation, you kept a steady hand and a cool head when negotiating for better terms of peace, for fair deals, and for aid. When some of your people attacked the Canadians, you chose prison over war, laying down your life to prevent the Canadians from branding the Cree as enemies -- even though you were innocent of any wrongdoing. Your wise actions and good counsel saved your people both from starvation and from war with Canada, but at great cost.
Your wisdom and firm hand is what we need, great Poundmaker! If our people are to thrive in these new lands, we will need to seek peace and friendship among the many diverse peoples around us. Will you rise up and make us into a great nation, spanning many lands, that stands the test of time?
Introduction: "My name is Pitikwahanapiwiyin, but you can call me Poundmaker. All my friends do."
Introduction: "Wisdom is found in the words of our ancestors and in the coming of change. Today, change has come in the form of new faces. Let us be friends."
Defeat: "I must do what I can to atone for any wrongs my people have cicommitted."
Strategy
The Cree possess some advantages towards Domination. Every Unit will receive one of six unique Promotions listed below based on the terrain of its City - Plains and James Bay being the ones you're likely to see the most, and fortunately tend to be the most useful. The Sabtuan doesn't need to be built everywhere. If you can centralize Trade all in the Capital (or best City) and forgo Internal Trade Routes, it can give up to +8 Food and 24 XP for new Units, 10/30 with Colossus and Petra - either way, more than any one other Building in either respect, but it takes time to achieve this. The Gunstock Warrior has limited use, struggling to redeem its lost Combat Strength. As a Mounted Unit it can go toe-to-toe with Musketmen.
Unique Attributes
The Cree (Poundmaker)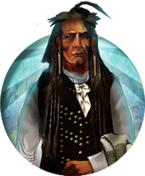 The Iron Confederacy
Founded Cities belong to one of six Cree Nations, based on surrounding terrain. Each Cree Nation receives unique City Names and a specific combat promotion for newly trained units.

Gunstock Warrior (Longswordsman)
Unlocked at Physics
-3 Combat Strength
+15% Combat Strength if HP is less than 50
+25% Combat Strength vs. Gunpowder units
May permanently steal Horses from a tile containing Horses, allowing the unit to mount up (Resulting mounted unit is identical to a Knight, plus the Gunstock Warrior's two abilities. Stealing Horses from another Civ's lands earns a highly negative diplomatic penalty.)

Sabtuan (Caravansary)
| Cree Nation | Terrain | Promotion Effects | Cree Nation | Terrain | Promotion Effects |
| --- | --- | --- | --- | --- | --- |
| Plains | Grassland or Plains | Units ignore enemy zones of control | Swampy | Marsh | Increased visibility, 25% cheaper upgrading |
| Woodlands | Forest or Jungle | +10% Defense in Rough Terrain | Innu | Tundra or Snow | +15% Strength vs armored units, pillaging does not consume movement |
| James Bay | Coast | Heal faster outside friendly territory | Metís | Desert or snow | +15% Experience gain |
Music
| Peace Theme | War Theme |
| --- | --- |
| The Cree - Poundmaker Peace | |
| 'Cree Honor Song' by Randy Wood | 'Run to the Hills' by Anatomy of Evil: The String Quartet Tribute to Iron Maiden |
Mod Support
Mod Support
No

Community Balance Patch

Unknown
Yes

Ethnic Units

No
Yes
No

Map Labels

No
Unknown
Unknown
Yes

Unique Cultural Influence

No

Wish for the World

Yes

YnAEMP

Unknown
Events and Decisions
Grand Council of the Crees
As time passes, the nations around us look upon our lands with greed. We must work together to find ways to protect them. Following the example of our brothers upon the icy shores of James Bay, the time has come for all Cree to unite. Together, we can better protect the rich abundance of the People's Land from those who would exploit it without our consent.
Requirements/Restrictions:
Player must be the Cree
Must have researched Civil Service
Must have at least one Coastal City
May only be enacted once per game
Costs:
3 Magistrates
Rewards:
Become the [Luxury] Trade Middleman
The [Luxury] trade has proven lucrative. If we would profit even more, we should divide each source of [Luxury] into a separate market and work to establish varied trade for each kind of [Luxury] between our trading partners.
Requirements/Restrictions:
Player must be the Cree
Player must have 3 or more sources of 

[Luxury]

.
May only be enacted once per game
Costs:
2 Magistrates
Rewards:
Whenever a City-State becomes your friend, you will receive Gold. (The amount you receive increases with each source of 

[Luxury]

 you control.)
Unique Cultural Influence
"Our people are marrying into your nation at so fast a rate that I fear that history will remember us as just another Cree nation. Oh, by the way, did you get the invitation to my upcoming wedding? My fiancé insists that you be there."
Lists of Cities
Capital: Sipiwininiwak
Plains Nation Cities
Katepwewi
Waposwayanak
Nehiyawi-pwatak
Natimiyininiwak
Amiskwaciwiyiniwak
Waskahikaniwiyiniwak
Paskokopawiyiniwak
Sakawiyiniwak
Mamihkiyiniwak
Swampy Nation Cities
Attawapiskat
Chemawawin
Tataskweyak
Misipawistik
Mosakahiken
Shamattawa
Taykwa Tagamou
Kashechewan
Missanabie
Weenusk
Woodlands Nation Cities
Kapawe'No
Sturgeon Lake
Loon River
Mikisew
Nisichawayasihk
Bigstone
Wabasca
Sakittawak
Amisksipi
Winipek
Innu Nation Cities
Totouskak
Kawawachikamach
Natuashish
Uashau
Mani-Utenam
Essipu
Pakuashipi
Ekuantshit
Matimekosh
Obedjiwan
James Bay Nation Cities
Ouje-Bougoumou
Chisasibi
Wemindji
Whapmagoostui
Nemaska
Mistissini
Waskaganish
Washaw Sibi
Wapanutaw
Waswanipi
Metis Nation Cities
Minnedosa
Camperville
Montagne à la Bosse
Grand Rapids
Birsay
Opaskweyaw
Baie St. Paul
Gabriel's Crossing
Waskahiganihk
Lac La Ronge
Muskeg Lake
Southbranch
Prince Albert
Last Mountain Lake
Lac St. Anne
Pakan
Amiskwaskahegan
Muskootao Point
Spring Creek
Full Credits List
TPangolin: Art, Concept.
Neirai: Coding, Concept.
Sukritact: Art, General Help.
Leugi: Leaderscreen.
LastSword: General Mastery.
Patum33: Units.
SuperWaffle: Pedia.
regalmanemperor: Map.
Randy Wood: Peace Music: "Cree Honor Song".
Anatomy of Evil: The String Quartet Tribute To Iron Maiden: War Music: "Run To The Hills"
Notes and References