United Kingdoms of Sweden and Norway
Map by Viregel

Leader

Oscar II

Capital

Stockholm

Start Bias

Coastal

Religion

Protestantism

Government

Monarchy

Culture

Western

Religious Intolerance

3

Traits

Diplomatic, Philosophical

Map Labels Language

Germanic
Sweden-Norway led by Oscar II[1] is a custom civilization mod by JFD and Janboruta[2], with contributions from Viregel, Wolfdog, whoward69, and Andreas Waldeloft.
This mod requires Brave New World. It does not replace Gustav II Adolph's Sweden.
Overview
Sweden and Norway or Sweden–Norway, officially the United Kingdoms of Sweden and Norway, was a personal union of the separate kingdoms of Sweden and Norway under a common monarch and common foreign policy from 1814 to 1905, before Sweden accepted Norway's leaving the union. Both states kept their separate constitutions, laws, legislatures, administrations, state churches, armed forces, and currencies; the kings mostly resided in Stockholm, where foreign diplomatic representations were located. The Norwegian government was initially presided over by viceroys: Swedes until 1829, Norwegians until 1856. That office was later vacant and then formally abolished in 1873. Foreign policy was conducted through the Swedish foreign ministry until the dissolution of the union in 1905.
Oscar II, baptised Oscar Fredrik, was King of Sweden from 1872 until his death and King of Norway from 1872 until 1905. The third son of King Oscar I of Sweden and Josephine of Leuchtenberg, he was a descendant of Gustav I of Sweden through his mother. 
Dawn of Man
Hail to the last King of the union of Sweden and Norway, Oscar II. A distinguished artist, academic, and statesman, you oversaw the peaceful seperation of Norway from an almost hundred year union with Sweden, as well as the institution of the office of Prime Minister in both Stockholm and Oslo. Remarked for your love and patronage of the arts and sciences, and confided in for your acute diplomacy, your reign over Sweden and Norway was both enlightened and ceremonious, and you remain beloved in the hearts of Swedes and Norwegians alike.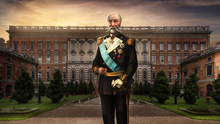 Respected King, the dual kingship of Sweden and Norway once more lies within your trust. Can you bring to both realms peace and harmony, and ensure prosperity and good health for your subjects? Can you build a civilization that can stand the test of time?
Introduction: "Greetings, my friend. I am Oscar II, King of Sweden and King of Norway. I must confess, I've been long awaiting our meeting."
Introduction: "Welcome to the United Kingdoms of Sweden and Norway. I am Oscar II, her King. Now, shall we adjourn to somewhere more comfortable?"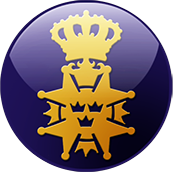 Defeat: "This humble King was not made for war and conflict. I trust you to offer the protection that my people need to survive this violent world."
Strategy
Unique Attributes
Sweden-Norway (Oscar II)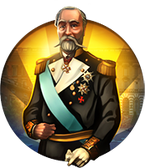 Nobel Prize
Gain 90
Influence when gifting

Great People to City-States. When declaring friendship, Sweden-Norway and their friend gain a +10% boost to

Great Person generation empire-wide.
Tordenskjold (Battleship)
May be used to build and repair Offshore Platforms and Fishing Boats (this does not consume the unit)
+25% Defense bonus 
-25% Attack penalty
Royal Academy (Public School)
-1 maintenance
Has a slot for both an Artist and a Writer Specialist
Changes to Sweden (Gustavus Adolphus)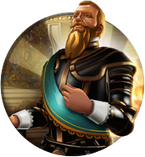 Father of Modern Warfare
Infantry Units produce Great Generals faster when beginning next to a friendly Mounted Unit. Great Generals increase the starting

Movement of adjacent Siege Units by +1 and may be used to spread your religion.
City List
Stockholm
Christiania
Gothenburg
Trondheim
Malmö
Stavanger
Sundsvall
Tromsø
Uppsala
Kristiansand
Linköping
Fredrikstad
Norrköping
Tønsberg
Helsingborg
Porsgrunn
Västerås
Moss
Gävle
Arendal
Umeå
Bodø
Eskilstuna
Hamar
Karlstad
Larvik
Borås
Lillehammer
Luleå
Halden
Täby
Askøy
Halmstad
Molde
Spy List
Sven
Joakim
Gustav
Nils
Stefan
Ulrika
Hedvig
Sibylla
Estelle
Elsa
Music
| Peace Theme | War Theme |
| --- | --- |
| Union of Sweden-Norway - Oscar II Peace | Union of Sweden-Norway - Oscar II War |
| 'Winter' by Andreas Waldeloft | 'Poverty' by Andreas Waldeloft |
Mod Support
Mod Support
Yes

Community Balance Patch

Yes
Yes

Ethnic Units

Yes
Yes
Yes

Map Labels

Yes
Yes
Yes
Yes

Unique Cultural Influence

Yes

Wish for the World

No

YnAEMP

Yes
Events & Decisions
Commission Self-Portrait
We should commission for ourself a self-portrait, by which we can be remembered in history as a modest and humble ruler.
Requirements/Restrictions:
Player must be Sweden-Norway
May only be enacted from the beginning of the Renaissance Era
May only be enacted once per game
Rewards:
Receive a free Great Work of Art
Innovate Open-Air Museums
An open-air museum is a type of museum whose exhibits are located outdoors. They often display collections of buildings or artefacts that otherwise would not fit indoors, some featuring actors living out the lives of people of the past. Oscar II innovated this kind of museum at his summer residence near Kristiania.
Requirements/Restrictions:
Player must be Sweden-Norway
May only be enacted from the beginning of the Renaissance Era
May only be enacted once per game
Prize-winning Poetry

A collection of our poetry, published by Stockholm's finest academy, has been awarded second prize in a competition of fine literature.
Option 1: We are flattered, of course!
Arctic Expedition

A group of adventurers, eager to explore the frozen Arctic, have petitioned for us to become their sponsor and to fund an expedition north.
Option 1: Excellent. When do they leave?
Option 2: I have not the funds for this frivolous expense.
Note: This event cannot fire before the Renaissance Era.
Exploration Continued Expanded
Colony List
Christiansborg
Carlusborg
Annamabo
Batensteyn
Taccorari
Apollonia
Myggbukta
Longyearbyen
Eystribyggð
Vinland
Vestribyggð
Olonkinbyen
Bouvetøya
Dronning Maud Land
Tórshavn
Klaksvík
Hoyvík
Argir
Reykjavík
Seyðisfjörður
Skúlastaðir
Vífilsstaðir
Garðabær
Vopnafjörður
Kirkwall
Stromness
Lerwick
Unique Cultural Influence
"Our people are now reading your Nobel Prize-winning literature and listening to your romantic compositions. I worry the rest of the world will also succumb to the influence of your culture."
Full Credits List
JFD: Coding, Design, Writing
Janboruta: Art (Leaderscene, Leader Icon)
Viregel: Art (Map), Research (City/Spy Lists)
Wolfdog: Graphics (Mikasa)[3]
Whoward69: Coding (PlotIterators.lua)[4]
Notes and References
Community content is available under
CC-BY-SA
unless otherwise noted.