Duchy of Pomerania
Map by Senshi

Leader

Bogislaw X

Capital

Stettin

Start Bias

Coast

Religion

Catholicism

Culture

Central

Mercenaries

6

Religious Intolerance

4

Slavery

0



Pomerania led by Bogislaw X is a custom civilization by Senshi, with contributions from TopHatPaladin, DarthKyofu, and Grant.
This mod requires Brave New World.
Overview
The Duchy of Pomerania was a duchy on the southern coast of the Baltic Sea, ruled by dukes of the House of Griffins. The duchy originated from the realm of Wartislaw I, a Slavic Pomeranian duke, and was extended by the Lands of Schlawe and Stolp in 1317, the Principality of Rügen in 1325, and the Lauenburg and Bütow Land in 1455. During the High Middle Ages, it also comprised the northern Neumark and Uckermark areas as well as Circipania and Mecklenburg-Strelitz.
Bogislaw X, "the Great", was Duke of Pomerania from 1474 until his death in 1523. Before Bogislaw's reign, the Duchy of Pomerania had for a long time been divided into several splinter duchies, ruled by relatives of the Griffin house. In 1464, Pomerania-Stettin's duke Otto III died without an heir, Bogislaw's father Eric II and his uncle, Wartislaw X, both ruling different portions of Pomerania-Wolgast, managed to succeed in a conflict about Pomerania-Stettin inheritance with the Margraviate of Brandenburg. In 1474, with his father's death, Bogislaw inherited his splinter duchy, becoming Duke of Pomerania. In 1478 with his uncle's death, he inherited his splinter duchy, too, becoming the first sole ruler in the Duchy of Pomerania in about 200 years.
Dawn of Man
"Hail, great Bogislaw X, noble Duke of Pomerania! Pomerania has a long and fractured past, a crossroads of Germanic and Slavic cultures along the coast of the mighty Baltic Sea. Before you rose to power, the Duchy of Pomerania was fractured for centuries, a number of squabbling rulers torn and tossed between the spheres of Poland, Brandenburg and other powers in northern Europe. But under your wise rulership, Pomerania was united into one territory once more! Thanks to your wise diplomatic hand, your newly unified Duchy was able to assert itself as a state of its own, free of any hegemonic influence. It is of no question that you earned the moniker of Bogislaw the Great!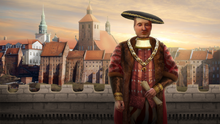 Oh wise Duke, Pomerania would not stay united for long after your reign, and even today is fractured and split between the powers that always threatened its independence. But your people rejoice at your return! Will you restore the prestige of the House of Griffins? Will you build a civilization to stand the test of time?"
Introduction: "Greetings, wise ruler! I am Bogislaw X, the first to unite the whole of Pomerania in centuries. Some call me 'the Great' - perhaps you will soon be one of them?"
Defeat: "I guess this is the end of a united Pomerania..."
Unique Attributes
Pomerania (Bogislaw X)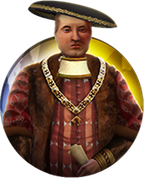 House of Griffins
Gain
Influence with nearby City-States upon acquiring Coast or Ocean tiles. Naval Units may freely enter rival territory without an Open Borders agreement, and gain additional

Movement when doing so.
Likedeeler (Privateer)

Fischerteppichknüpferei (Lighthouse)
City List
Stettin
Wolgast
Stolp
Stralsund
Greifswald
Neustettin
Demmin
Rugenwalde
Kolberg
Bergen auf Rugen
Schlawe
Koslin
Swinemunde
Stargard
Politz
Belgard
Gollnow
Greifenhagen
Barth
Naugard
Greifenberg
Arnswalde
Schivelbein
Neudamm
Falkenburg
Pyritz
Anklam
Bad Schonfliess
Spy List
Wartislaw
Barnim
Casimir
Swantibor
Anna
Elisabeth
Edelheid
Mestwin
Swantibor
Peter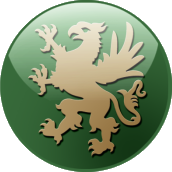 Strategy
Mod Support
Mod Support
Yes
Yes

Community Balance Patch

Unknown
Yes
Yes

Ethnic Units

Yes
No
Yes
Yes

Map Labels

Yes
Yes
Yes

Unique Cultural Influence

Yes

Wish for the World

No

YnAEMP

Yes
Full Credits List
Senshi: Design, Code, Art (Civ Icon and Alpha, Map, Leaderscene), Text
TopHatPaladin: Lua
DarthKyofu: Art (Leaderscene, Building Icon)
Grant: Art (Unit Icon)
Deliverator: Art (Unit Model)
Alga: Unique German Insight
Community content is available under
CC-BY-SA
unless otherwise noted.