Kingdom of Bosnia

Leader

Tvrtko I

Capital

Bobovac

Religion

Eastern Orthodoxy

Culture

Eastern

Traits

Spiritual, Aggressive
Bosnia led by Tvrtko I is a custom civilization by Hiram, with contributions from COF, LastSword, and TarcisioCM.
This mod requires Brave New World.
Unique Attributes
Bosnia (Tvrtko I)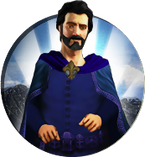 Crkva Bosanska -

+25% experience for units trained in cities where a Missionary is stationed. Receive a free

Great General upon researching Theology.

Krstjan (Swordsman)

Weaker and cheaper than the swordsman it replaces, does not require

Iron. Earns

Faith from kills.

Bogomilian Church (Temple)

Provides +1

Happiness and a free missionary appears near the city where it is built.